Studying with PMG
PMG actively provides studying opportunities for individuals from a wide range of backgrounds. PhD studentship opportunities exist for both funded and non-funded projects. PMG also welcomes interest from individuals wishing to pursue their own PhD research projects that aligns with PMG Research Themes and member activities. Contact relevant PMG member for information.
PMG members are also involved in supervision of PhD studentships hosted within affiliated institutions, for example the Mineral Deposit Research Unit (MDRU) at UBC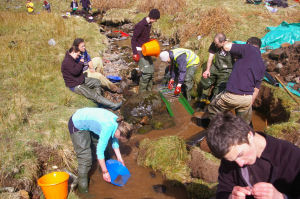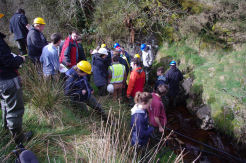 PMG members actively engage in undergraduate study programs, routinely delivering a range of short taught courses as well as field excursions to gain hands on experience of the challenges facing heavy mineral exploration.

Current PhD research students
Rob Lowther - Modelling the evolution of giant gold placers
Mathew Grimshaw: modelling small, world class orogenic gold hydrothermal systems
Albertina Nakashole: The significnce of heavy mineral assemblages in the lower Orange river

Funding Options
There is a range of PhD studentship funding options:
Fully PMG funded
Part PMG and part industry-funded
Fully industry funded
Research council funded
Self funded
Scholarship funded - Leeds. The University has separate scholarship schemes for UK/EU students, and also "international" (non EU) students
Scholarship funded - non Leeds.
Current PhD opportunities
Please revisit soon for more information
Current student profiles
PhD Candidate - Rob Lowther
Modelling the Evolution of Giant Gold Placers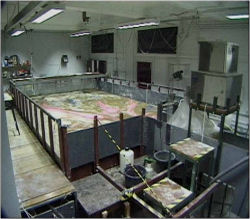 The gold placers of the Yukon Territory, Canada, have produced between 15 and 30 million crude ounces of gold, and continue to be a vital part of the regional economy. However, production from the historically important placer areas is generally in decline and the discovery of new placer districts and mining targets is vital to the longevity of various placer communities. To date, exploration has been constrained by the nature of the potential targets which are often in large valleys where irregular paystreaks may occupy only a minor fraction of the valley floor. In addition, deep overburden provides a handicap to traditional methods of proving placer deposits by drilling.
An alternative approach is to develop a predictive tool based on sedimentological criteria which informs exploration at an early stage. In general, our current understanding of the formation of economic placer deposits relies on studies of heavy mineral accumulation on a grain or bedform scale, (i.e. over a maximum of a few metres), which is plainly inadequate in the context of exploration. This project aims to increase our knowledge of economically important gold placer evolution on this larger scale.
Project methodology has (to date) involved six weeks of detailed sedimentary studies of various economically important placer areas in the Klondike which has augmented information from previous work. These data sets will permit reconstruction of the sedimentary systems within a state-of-the-art flume tank at the University of Leeds. Introduction of heavy minerals into these model systems will permit study of placer evolution, and the results from the first series of tests will be evaluated against existing and new field data (to be collected in 2012), and where possible, historical records of gold production.
The project comprises a novel synthesis of expertise in process sedimentology informed by flume tank technology with ore deposit studies. The project benefits through a strong synergy of expertise in process sedimentology (University of Leeds) and Yukon gold metallogeny and regional expertise provided both by the University of Leeds and the Yukon Geological Survey.
Listen to Rob describing his project during a CBC radio interview from the Yukon Placer Forum, Whitehorse.

Contact Rob Lowther

PMG Alumni:
MSc Candidate Tim Wrighton
Placer/Lode Gold Relationships and the Implications for Gold Exploration
Previous research by a number of authors (Mortensen, Chapman and others) has looked at different aspects of placer gold geochemistry and morphology. This project is a continuation if this work and aims to combine these two avenues of research together to develop a new method for determining the most likely style(s) of lode mineralization (e.g., orogenic, epithermal, porphyry, skarn, etc.) that contribute to placer deposits, and for estimating how far the gold grains have travelled from source; thus providing valuable information to aid hard rock exploration. Recent studies of placer and lode gold in the western Yukon and elsewhere by Chapman, Mortensen and others have shown that the morphology and microchemical signature (alloy composition and microinclusion assemblage) of placer gold can be used in this way to inform exploration. This project involves applying the technique across the whole unglaciated portion of the Western Yukon, with the aim of actively directing companies toward areas of economic interest. The Yukon is an ideal area to conduct this project due to: 1) the unglaciated nature of the western Yukon; 2) the extensive research already conducted; 3) the widespread placer gold across the study area; and 4) the current drive in the area to find new resources. During this project Tim aims to evaluate the potential of using this technique during active exploration programs alongside more conventional data streams (e.g., Geophysics, stream sediments and soil geochemistry) and hopes to display the added value that can be gained by applying this technique during exploration efforts.
Tim's project is based within the Mineral Deposit Research Unit, Department of Earth and Ocean Sciences, at the University of British Columbia. He is co-supervised by PMG principal investigator Dr Rob Chapman.

Contact Tim Wrighton