Research Themes & Methods
Key Areas of Research
Gold grain mineralogy and implications for placer-lode gold relationships (Leader: Dr Rob Chapman)
Placer gold particles are overwhelmingly hyogene in origin, and their mineralogical and chemical characteristics are those inherited from their hypogene source. The gold alloy composition provides information on the chemical environment of gold precipitation, as does the associated vein mineralogy which is usually preserved as mineral inclusions within placer gold particles. Studies of populations of gold particles from either placer or lode sources permits synthesis of the alloy and inclusion data to generate a 'microchemical; signature' of the sample. This signature may be used in several ways:
To determine whether the placer gold within a placer district is derived

from one or more sources
To determine whether there are single or

multiple sources of gold grains present in a

single population of placer grains
To determine the relationship between microchemical signature and style of mineralization,
Placer formation and evolution (Leader: Rob Lowther)

Although there is a great deal known about heavy mineral concentration processes on a small scale (10's m), there is very little known about placer formation and evolution on a larger scale (10's Km). It is this larger scale understanding that is essential when prospecting for new placer deposits. The sedimentological study of existing placer deposits allows for these deposits physically modelled, allowing for their formation processes to be observed. This modelling will allow for an increased understanding, allowing for advances in exploration techniques. An increased knowledge of placer formation and evolution will:

Aid in placer exploration in area traditionally not considered viable to prospect
Aid in explanation of existing placer claims, though identification of additional associated placers
Aid in possible lode source exploration.
Indicator minerals and mineral exploration (Leader: Dr Norman Moles)

Heavy mineral concentrates (HMC) obtained from sediments by hydraulic and gravitational separation methods have become widely used in mineral exploration for many commodities in addition to diamonds. Concealed bedrock geology may be inferred from abundances of minerals indicative of particular lithological associations (e.g. chromite with mafic/ultramafic rocks). The mineralogy of HMC samples can help constrain the style of mineralization from which associated placer gold is derived, although caution is necessary as mechanically resistant indicator minerals transported from distant sources may co-exist with gold sourced directly from local bedrock. Techniques range from simple bulk analysis by XRD and XRF to more advanced methods including mineral liberation analysis (MLA) and quantitative evaluation of materials by scanning electron microscopy (QEMSCAN). Minor and trace element analyses of specific indicator minerals (such as Nb and Ta in cassiterite) provides valuable information on styles of bedrock mineralization within a study area.
Methods
Electron microscopy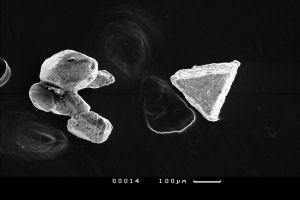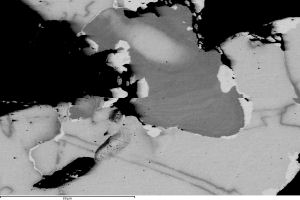 Sedimentary architecture and evolution studies
Field studies (bed logging, clast oriantation, grain size)
Heavy mineral sample collection
Flume Tank Modelling
Flume tank modelling is performed at the the Sorby Environmental Fluid Dynamics Laboratory based within the School of Earth and Environment, University of Leeds. This impressive facility offers an exciting opportunity to model the evolution of giant placer deposits.